this is a bit of a long post, but hopefully you'll understand why (there's a picture at the end)…
we've been hearing funny sounds downstairs in our house for the last few days which we've assumed were the dishwasher reaching the end of its life.
however, we suspected it wasn't the dishwasher when we started to see green poos in our utility room floor. They were too large for cat poos (we thought) and for a while we thought we'd got a goose in the house. Another popular suggestion was a bat. certainly more popular than a rat. so generally, we thought we were looking at a three lettered animal ending in at. *at if you like.
anyway, we left all our doors and windows open on saturday and hoped whatever the monster was it would leave of its own accord. esther and kezia were slightly excited, but also a bit worried, because we had an unknown monster, but that's all part of the fun of growing up isn't it ?
Sunday night jane and i slept very badly. every bump and squeak was analysed and rationalised as 'the central heatings', or 'kids moving around in their sleep'. it was too creepy to accept that the beast might be moving about the house late at night.
At about 1.30am i was awoken by jane telling me wake up and be quiet ! we lay in silence and listened, and there, in our bedroom, upstairs, in our house, there was a rustling sound coming from near where i was laying
we turned the light on, and there, just a few inches from my face on the floor below me was …

a hedgehog !
We managed to nudge him gently in to a cardboard box without disturbing him/her too much (helped by the fact it was sitting on a piece of paper which we could slide along slowly), and we released him out in to the street.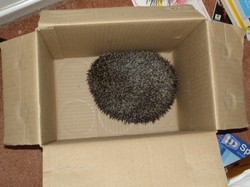 it turns out hedgehogs are quite the adventurers and stair climbing is no trouble for them. it also turns out people keep them as pets (see here)
In one week's time it's hedgehog awareness week. we've been made aware of them a week early it seems !