i took my 10,000th photo with my Sony DSC-P71 camera this morning. Here it is. A self portrait of the camera. I bought the camera in September 2002, so that's 10,000 photos in 16 months.
i do love my camera – But i was a little disappointed to discover the numbering has now gone back to 1. which means i will get duplicate file names and may have trouble uploading things to the blog.
here is photo number 10,000 (also known as photo number 1)


here is photo number 9999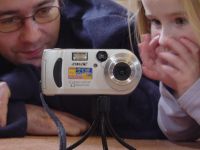 does anyone know anyone who know's someone who works for sony and could pursuade them to sponsor the blog and/or give me a new camera ?
Whilst we're talking about numbers, i've now posted over 1,500 entries and have around 1000 comments since april last year. this month we've had over 4,800 unique visitors and shifted 2.2GB of bandwidth !
what a bizarre thing bloggin is.