it's a working from home day today and i've got tomorrow off work, so i thought i'd try a 24 hours photo thing. me or a bit of me (eg finger) will appear in each photo and i'll take them around 5 minutes past the hour. i'll keep updating and moving this entry throughout the day.
jane was questioning why there aren't any truely awful pictures of me on the blog. so here's more than my quota's worth.
update: the day is done. i've taken my last photo (11.05). i'm tired and am going to bed.
here's my first photo of being awake this morning at 4am. for those that didn't see my commentary at the time i prepared my face by wiping my teeth dry and 'sticking' my lips in the horrible smiley configuration you see here.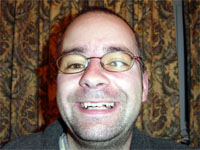 so what have i learned ?

well. i knew i was ugly, but i hadn't realised just how bad i am. i also realised there some stuff i don't want to blog like me being asleep ! i much prefer to be behind the camera than in front of it.
photos by hour (photos start with being asleep at 12.05am):





23 (pootling) 22 (putting bins out) 21 (chatting) 20 (inspecting camera)
19 (bedtime routine) 18 (eating ice cream) 17 (preparing tea) 16 (travelling)
15 (maze) 14 (working) 13 (working) 12 (lunch)
11 (working) 10 (working) 9 (briefly joined by kezia) 8 (family breakfast)
7 (hot water break) 6 (working) 5 (working) 4 (up and working)
3 (asleep) 2 (asleep) 1 (asleep) 12 (asleep)
i could blame the wide angle lense for my distorted features whilst asleep, but i think this is what i look like normally.