hi. this is a cross-post from my other blog which we do to keep friends/family who we know in the real world up to date on our family life in new zealand. i thought it might be of interest here too, so here it is as an extra bonus post !
i've been taking a few photos of natural kiwi type things over the last few weeks, so here's a special bonus feature of some kiwi things. first up is a tree known as the 'kiwi christmas tree' as it blooms with these red flowers each year to coincide with christmas. It's actualy called a pohutukawa tree. they really are dramatic, especially against a blue sky and seem to be everywhere. the one below is from a couple of weeks ago, and the one at the bottom from yesterday. read more here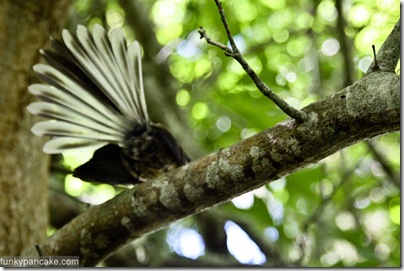 next up is the new zealand fantail. this chap (or chapess) was flirting for a photo in a sculpture park we visited. There were a number of Tuis flapping round our heads in the same place, but they moved much too quickly for me to grab a photo unfortunately, but i'm sure i'll get a photo eventually.
the trees above are Kauris. They played a huge part in New Zealand's brief history – with the maoris using their timber for boat building, carving and housing, and the gum creating an industry in itself. At one time Kauri forests covered 1.2 million hectors, but now it's reckoned to be nearer 80,000 hectares. they really are the daddies of the forest.




this is a cabbage tree which has been having a tricky time of late due to sudden illness.

and these two pictures are just of a huge amount of 'bush'

inally, here are some pictures of a pukeko which is a funny little chicken like thing with a red beak and a blue belly.



these aren't great pictures unfortunately as it was walking in long grass. i've no excuse really as these chaps are all over the place, including wandering along the sides of the main motorway



we even had one wander in to our tiny back garden in our temporary rental place.
so there you go, just a few of the natural things we've seen wandering or growing around and about. blah blah blah. no snow here.
UPDATE: My friend Andy left a comment on this, but comments are broken so it didn't publish. but i wanted to share it with you, so here's what he said:
great photos! a minor correction – Maori words eg Kauri do not suffer
an 's' in the plural. The tree, a group of trees and the wood are all
'Kauri' – the s being a european consonant that does not exist in the
Maori alphabet. Lesson over. Still loving the photos: "ke te pai! ke
te pai!"