there was a fanstastic scarecrow hunt in a lovely thameside village called Sonning this afternoon. unfortunately it chucked it down with rain and i hadn't brought the girls' rain coats or wellies (i admit it, i'm hopeless). we met our friends there and they got wet too.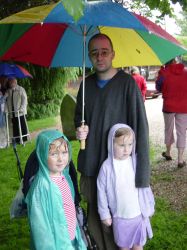 before it got too wet we managed to spot a fair few of the 70 scaregrows on display. here are a few photos.
it's on tomorrow so if you are in europe you could probably get there in time.
uri geller lives just off the main street in sonning so you could pop in to see him too.


update: more pictures from the next day here