after lunch with friends (the ones who were there, not the ones who weren't) we went to the Crib service at church. jane was one of the leaders and played a mean guitar.
After that Jane went off to our sister church to do a repeat of service whilst i took the girls to the chip shop ! The chip shop wasn't open so i did what any father would do and let the kids play in a deep bubbly bath for half an hour until it was open. we went back later with the girls in their pyjamas.
After a chips and chocolate supper, we brought esther's duvet down and snuggled down to watched Chicken Run on the telly.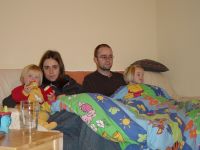 yeah for families and christmas !