we went to marwell zoo today. it's our favourite local(ish) zoo.
it was chucking it down with rain and very cold, but we decided to do the British thing and go anyway.
here is kez in the car on the way there:


one advantage of going on such a horrible day was that there was hardly anyone else there. this meant all the animals were really excited to see us ! The penguins were in an especially showy-offy mood: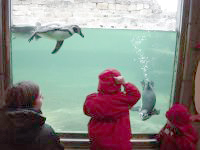 All the giraffes were shelting in their house, so i was able to get some close ups


we all got very wet:


kids love umbrellas:


Here are some more animals:


and here are some wallabies. also known as 'wobbalies' (esther) and 'big mouses' (kezia):


Marwell Zoo is usually excellent for getting great animal shots, but the low light level and the fact most of them were hiding behind glass in their warm beds reduced the quality considerably !