(page updated dec 2013)
here's what i wrote last year. an ideal last minute present, and perhaps even better this year as we're all creditally challenged ?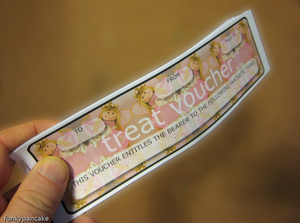 We've made some 'treat vouchers' for our girls for christmas, and it struck me these are a brilliant last minute or additional christmas present for a friend or family member.  Best of all, they are individual and needn't cost you any real money if you don't want !essentially you print off the voucher, cut them out and staple to produce a cheque book of lovely treats, such as:
For younger children:

A trip to the fun park
A day out with just mummy or daddy (your choice)
A free room tidy
Stay up 30 minutes late
Use mummy's nail varnish
Trip to feed the ducks
Free bag of sweets from the supermarket

For older children

Dinner of their choosing
Lift in to / back from town
Pamper evening at home for them and a friend
Video evening with friends
Trip to the cinema with a parent/friend of their choice

For Adults

Luxury home restaurant evening (you'll organise food/drinks/family waitress etc)
Luxury home spa (you'll organise the candles/bathstuff/music etc)
Trip to the cinema (you'll organise the babysitter etc)
Home wine tasting with 2 friends (you'll get a few bottles in and create a DIY wine tasting experience at home)
I'll do the housework this week (new idea!)
I'll do the supermarket shop and put it all away (new idea!)
I'll do the laundry and ironing and put it all away (new idea!)
If you want to download my template, i've put it in my flickr account here .  it's a 2MB download, which you can get to via the 'all sizes' then 'original' above the image here
There are 5 on a sheet – we've made cheque books of 10 vouchers, so that's 2 pages (for those who are mathematically challenged)
Let me know how you get on and the kinds of things you put on the treat vouchers and i'll add them to the list
UPDATE (after last christmas): just to let you know, jane says it was her bestest friend julie who gave her the idea of the vouchers, so credit to her excellent self is due.  And the vouchers themselves went down a treat and esther says they are amongst her best present !  huzzah.